Headteacher's welcome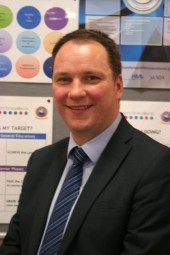 On behalf of the staff and students of Eyemouth High School, I extend a very warm welcome to all visitors to our website.
We are justifiably proud of our school building, and believe that it provides a fitting setting for the many and varied learning experiences that take place here. We make significant progress in our learning as a community when we apply our full effort, and follow the best strategy to improve. This takes place in all parts of the school curriculum, and in the wider life of the school and community.
We value highly the close working relationships that exist between staff and students, their families, local businesses, and other partners to seek the best for our young people. As such we are always looking for opportunities to enhance our students' development of their skills for life and work.
I hope you will find the different parts of the website interesting and informative, as well as a treasure trove of information about learning and about the school in general.
We have had a measure of success recently, with our positive school inspection, GTCS Excellence in Professional Learning Award, and have recently become the first Secondary school in the South East Improvement Collaborative to become a Research school (from 62 High Schools!)
If you have any questions that you would like to discuss, please do not hesitate to get in touch with me.
We look forward to working with you at Eyemouth High School.
Robin Chapman
Headteacher