Parent Council
Welcome to Eyemouth High School Parent Council
On this page, we will keep you up to date with our activities and publish minutes of our meetings. If you'd like to get in touch, please use the contact form.
Our next meeting is:
Tbc.
You will be sent a link to join the meeting closer to the time. All parents/carers are warmly invited to join us - although by necessity the meeting will be virtual. Please contact school if you are not a member but would like to join this meeting.
***
Special notice:
Thank you for your support of the Easter Prize Draw - we raised £3,064!
The money raised, as always, will go towards projects and the provision of equipment to benefit students at EHS. We have recently funded: The Duke of Edinburgh Award Scheme; Apple pencils for teachers to assist with remote and in-school learning and Christmas decorations and activities.
What does the Parent Council do?
Schools across Scotland have set up Parent Councils which are made up of volunteer parents, carers and families of pupils in the school concerned.
The role of the Parent Council is to:
· Support the school in its work with pupils and parents;
· Represent the views of parents;
· Promote contact between the school, parents, pupils and the wider community;
· Report back to the parent forum (parents of all children in the school).
The Parent Council also organises social and fundraising events throughout the year. At Eyemouth, we are especially proud of our fundraising activities which have allowed us to provide financial support to groups of pupils taking part in a range of extra-curricular activities.
Recently we have given grants to: Bamboo Enterprise Project; enrichment projects; Splash Activity Challenge; Leadership Team Weekend; Duke of Edinburgh Award Scheme participants; trips by the Economics and Modern Studies departments, house badges and we have bought a washing machine for the Chill 'n' Chat Café.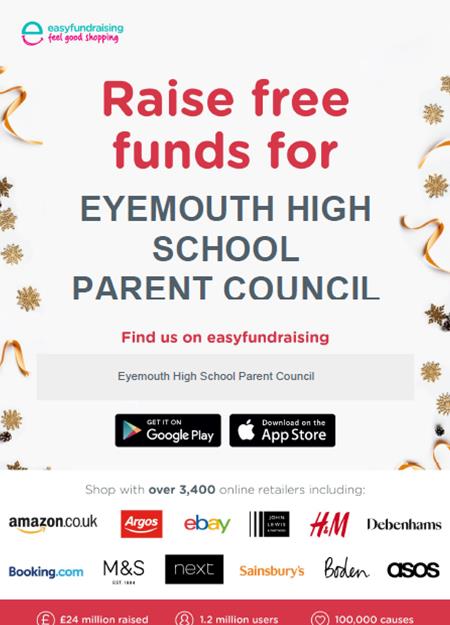 How can I get involved?
At Eyemouth, any parent/carer of a pupil in the school can become a member of the Parent Council. Get in touch using the contact form (right) or simply turn up to one of our meetings. You will be made very welcome. We usually meet on a Tuesday evening in the school staff room (every 6-8 weeks or so).
Not your thing?...
We understand that we are all busy parents and sometimes find it difficult to commit to regular meetings. And some people just don't feel comfortable in that environment but want to help in other ways. That's why we're setting up a database of contacts who may be willing to help at some events (for example: serving refreshments, selling raffle tickets, bag-packing, making posters) but don't want to be a full member of the Parent Council. If you think you could help in this way, please get in touch. We will not hold you to anything!