Parent Council
Welcome to Eyemouth High School Parent Council
On this page, we will keep you up to date with our activities and publish minutes of our meetings. If you'd like to get in touch, please use the contact form.
Our next meeting is:
Tuesday, March 31, 7pm in the staff room. Everyone welcome.
See below for more information
***
News from Scottish Borders Council
Borderers are being asked for their thoughts on the possible introduction of a byelaw that would ban the consumption of alcohol in public places in four of the region's towns.
Last year, Scottish Borders Council (SBC) carried out a consultation on whether or not people thought drinking in public places was causing a problem.
The results were mixed with 36% agreeing this was the case and 44% saying it wasn't. The remaining 20% were unsure.
Councillors then decided to hold a second consultation, focusing on four towns: Eyemouth, Galashiels, Hawick and Peebles.
That consultation is now open until 6 May and you can give your views online at https://scotborders.citizenspace.com
You can also request a paper copy at contact centres or libraries by emailing liquorandlicensing@scotborders.gov.uk or calling 01835 826662.
The consultation is looking to gather people's views about:
Support for an alcohol byelaw in each of the four areas
The areas in each of the four towns for the potential byelaws
Potential exemptions for an alcohol byelaw (e.g. New Year's Eve)
Impact of an alcohol byelaw in each of the four towns
You can find out more information at public events taking place in each of the four areas:
Hawick: Hawick Community Council meeting; 9 March; 6:30pm, Hawick High School
Galashiels: 19 March; 6:30pm; Balmoral Lounge, Focus Centre
Eyemouth: 23 March; 6:30pm; Eyemouth Primary School
Peebles: Peebles Community Council meeting; 9 April; 7pm: Burgh Chambers, Chambers Institution
Please direct any enquiries to: liquorandlicensing@scotborders.gov.uk or 01835 826662
***
What does the Parent Council do?
Schools across Scotland have set up Parent Councils which are made up of volunteer parents, carers and families of pupils in the school concerned.
The role of the Parent Council is to:
· Support the school in its work with pupils and parents;
· Represent the views of parents;
· Promote contact between the school, parents, pupils and the wider community;
· Report back to the parent forum (parents of all children in the school).
The Parent Council also organises social and fundraising events throughout the year. At Eyemouth, we are especially proud of our fundraising activities which have allowed us to provide financial support to groups of pupils taking part in a range of extra-curricular activities.
Recently we have given grants to: Bamboo Enterprise Project; enrichment projects; Splash Activity Challenge; Leadership Team Weekend; Duke of Edinburgh Award Scheme participants; trips by the Economics and Modern Studies departments, house badges and we have bought a washing machine for the Chill 'n' Chat Café.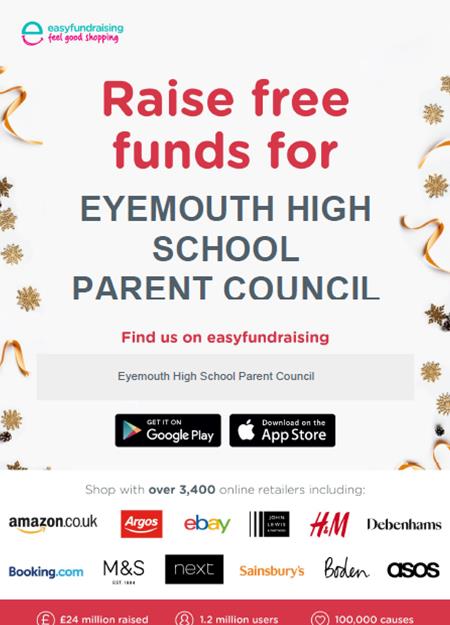 How can I get involved?
At Eyemouth, any parent/carer of a pupil in the school can become a member of the Parent Council. Get in touch using the contact form (right) or simply turn up to one of our meetings. You will be made very welcome. We usually meet on a Tuesday evening in the school staff room (every 6-8 weeks or so).
Not your thing?...
We understand that we are all busy parents and sometimes find it difficult to commit to regular meetings. And some people just don't feel comfortable in that environment but want to help in other ways. That's why we're setting up a database of contacts who may be willing to help at some events (for example: serving refreshments, selling raffle tickets, bag-packing, making posters) but don't want to be a full member of the Parent Council. If you think you could help in this way, please get in touch. We will not hold you to anything!