Parent Council
Welcome to Eyemouth High School Parent Council
On this page, we will keep you up to date with our activities and publish minutes of our meetings. If you'd like to get in touch, please use the contact form.
Our next meeting is:
April 20, 2021 at 7pm via Teams.
You will be sent an link to join the meeting closer to the time. All parents/carers are warmly invited to join us - although by necessity the meeting will be virtual. Please contact school if you are not a member but would like to join this meeting.
***
News: Our Easter Eggstravaganza Prize Draw is live!
Easter Eggstravaganza – prizes rolling in, and ticket sales now live!
Ticket sales for our Prize Draw are now live – please click here to see a full list of prizes and make a purchase: http://bit.ly/EHSEggs
With our usual fundraising options curtailed due to Covid restrictions, we have decided to organise an online Prize Draw to raise funds to support school in supporting our students.
We are using the Eyemouth High School Facebook page to promote the draw – if you are on Facebook please support us by sharing the posts as widely as possible to allow friends and family to also buy tickets. The online event is a wonderful opportunity for us all to raise funds for our school.
Look at some of the wonderful prizes we have lined up:
A weekend in a cabin at Pease Bay for up to five people donated by Carrie and Andy Haddow; a weekend in a holiday flat in South Queensferry for up to four people donated by Raquel and Kenryck Lloyd-Jones (both to be taken once Covid restrictions allow); our local councillor, Carol Hamilton is generously donating vouchers for Morrisons and Occasions; Sophie & Campbell McNeil are donating a food and drink hamper, and S4 student, Monty McNeil is donating a voucher for homemade traybakes from his business Delishh; voucher for a Snorkel Safari from Snorkel Wild; a family nature tour from In Our Nature; a 'grab and go voucher for four' from Jarvis Pickle; a seafood voucher from Joe's Catch; voucher for tool hire from Alan Redpath Tool Hire; hamper items from Reston Provisions, Mr Neep, Soul Sisters at Ayton, AJB Spence and Son and Anderson & Sondergaard Charcuterie; pet hamper items from Galadin Vets, a gardening hamper from Homebase; a pony ride from Eat Sleep Ride; voucher from Harbro Country Stores; voucher from Fiona Genney's Tropic Skincare; Easter bucket from Braw Buckets; bottles of Kombucha from Left Field Kombucha; two wellness sessions from Lynsay Oliver Wellness; bath and wellness lotion from Kimberley's NYRO; Easter eggs and voucher from Tesco Galashiels; hamper and glass dish from Room No 3; a gift hamper from The Borders Distillery Hawick; bamboo toothbrush from Sea the Change; two vouchers from MacKays, each for two fish and chip suppers; a guided family tour voucher from Thirlestane Castle; voucher for a personalised Easter Crate from Fantasy Prints; Surf lesson voucher from St Vedas Surf Shop; coffee from Northern Edge Coffee; jam, tablet and easter biscuits from My Coldingham Kitchen; a gammon from Slighhouses Pork; Easter egg hampers from Asda Tweedmouth, honey gifts from Chainbridge Honey Farm; Easter eggs from Ayton Mini Market; bird food from Eyemouth General Store in a hamper with homemade birdbox made by one of our S4 students; a £15 voucher from Cheviot Ceramics; a family food hamper from Reston and Auchencrow Community Larder; a voucher from Giacopazzis; a voucher for a free MOT test plus £50 towards a car valet and wheel alignment from Scott Brown Cars; a Rington's Tea gift hamper from Ahlstrom-Munksjo; Potato voucher and potato themed items from Greenvale AP; artwork from parents Brita Granstrom and Mick Manning; a £40 voucher from Tweedylove; Jam Victoria Sandwich Cake from the Cedar Cafe .
Argos rules mean they are unable to donate to prize draws but our Berwick store has very kindly made a donation directly to school for five tents, plus peg and mallet kits and a stove to support our students with equipment for Duke of Edinburgh expeditions. These will be invaluable.
Thank you to all parents and school staff, as well as our wider community members who have rallied to source or provide prizes – your support is greatly appreciated. Thank you too to everyone who has already purchased tickets, we are very grateful..
***
What does the Parent Council do?
Schools across Scotland have set up Parent Councils which are made up of volunteer parents, carers and families of pupils in the school concerned.
The role of the Parent Council is to:
· Support the school in its work with pupils and parents;
· Represent the views of parents;
· Promote contact between the school, parents, pupils and the wider community;
· Report back to the parent forum (parents of all children in the school).
The Parent Council also organises social and fundraising events throughout the year. At Eyemouth, we are especially proud of our fundraising activities which have allowed us to provide financial support to groups of pupils taking part in a range of extra-curricular activities.
Recently we have given grants to: Bamboo Enterprise Project; enrichment projects; Splash Activity Challenge; Leadership Team Weekend; Duke of Edinburgh Award Scheme participants; trips by the Economics and Modern Studies departments, house badges and we have bought a washing machine for the Chill 'n' Chat Café.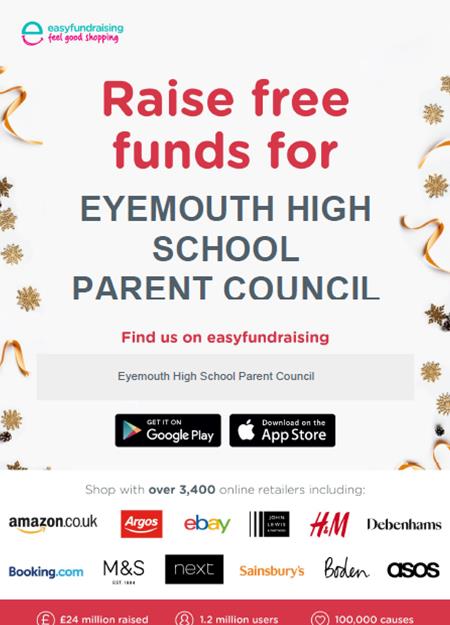 How can I get involved?
At Eyemouth, any parent/carer of a pupil in the school can become a member of the Parent Council. Get in touch using the contact form (right) or simply turn up to one of our meetings. You will be made very welcome. We usually meet on a Tuesday evening in the school staff room (every 6-8 weeks or so).
Not your thing?...
We understand that we are all busy parents and sometimes find it difficult to commit to regular meetings. And some people just don't feel comfortable in that environment but want to help in other ways. That's why we're setting up a database of contacts who may be willing to help at some events (for example: serving refreshments, selling raffle tickets, bag-packing, making posters) but don't want to be a full member of the Parent Council. If you think you could help in this way, please get in touch. We will not hold you to anything!